The World Health Organization (WHO) has urged governments around the world to strengthen oversight of vaccine manufacturing and distribution, particularly where public funds are used for vaccine R&D or manufacturing, to prioritize essential vaccines and ensure they are distributed equitably.
The global health agency's appeal to governments came as it released its annual report Vaccine Market Report Wednesday. He also urged countries to agree on tougher rules for fairer global distribution of vaccines.
"WHO is calling on governments around the world to expand research and manufacturing outside of its traditional centers to increase investment in monitoring vaccine manufacturing and distribution, especially for vaccines developed with funds and to agree on collaborative rules on the equitable sharing of vaccines. when demand is high," WHO Director-General Dr Tedros Adhanom Ghebreyesus said of the report at a press conference on Wednesday.
The 2022 Annual Report is the first report to include the impact of the Covid-19 pandemic on global vaccine production and supply chain. The report is also seen as a guiding tool to achieve the WHO targets of the 2030 Immunization Agenda which was adopted at the 2021 World Health Assembly.
The 2030 Immunization Agenda aims to save 50 million lives over the next decade by improving access to vaccines for everyone around the world.
Governments must invest and bear the risks
"Diseases such as hookworm, schistosomiasis and leishmaniasis, and pathogens prioritized by the WHO R&D blueprint, such as Zika, Lassa fever, Nipah and henipaviral diseases, Rift Valley, Crimean-Congo hemorrhagic fever and filoviruses, still lack a vaccine," the report said.
Vaccine manufacturing involves heavy up-front investments with high risks, the report notes. The benefits provided by vaccines are also lower than those provided by other pharmaceuticals. In an attempt to mitigate these barriers, the report urges governments to adopt market-priming measures, such as ¨investing in new vaccine technologies, regional research and development and manufacturing centers, and enabling regulatory harmonization.
Distributed supply is key
Although the WHO has a directory of more than 90 licensed vaccine manufacturers around the world, much of the supply is concentrated in the hands of just 10 manufacturers, the world health agency noted. About 70% of vaccine doses come from these manufacturers. When it comes to individual vaccines, often supply can be concentrated in the hands of just two or three manufacturers, the report notes. The resulting market concentration has led to supply shortages, as seen in the response to recent emergencies such as monkeypox or cholera. In the latter case, vaccine shortages recently led the WHO to recommend in October to ration supplies by administering only one dose of vaccine, instead of two.
"Each of the conjugate vaccines against human papillomavirus, pneumococcal and measles, mumps and rubella is used by at least 100 countries, but each market is heavily dependent on one or two manufacturers who represent more than 80% of the vaccines in volume," the report adds.
In the case of COVID vaccines, vaccine distribution was also mostly concentrated in regions where particular vaccines were produced, the report notes. As a result, regions without vaccine manufacturing capacity have been left dependent on other regions to meet their demands, often belatedly.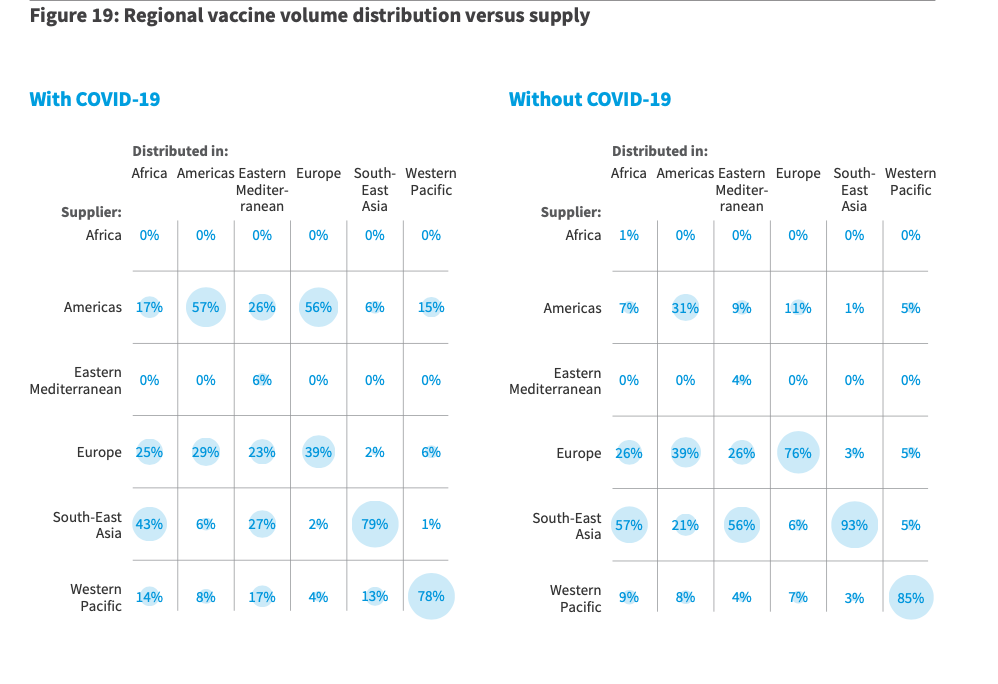 So, despite the fact that COVID vaccines were developed and manufactured in record time, some parts of the world were left without access to vaccines for many months, as technology and production were centered on a limited number of companies. and countries, according to the report. To address this, WHO has called on governments to strategically and aggressively invest in more vaccine manufacturing capacity for the future. The report also urges governments to define principles and establish rules for collaboration, including on intellectual property and the sharing of raw materials.
The report also urged countries to explore more pooled procurement options with other countries in their region, instead of relying solely on national mechanisms.
"Compared to self-procurement, pooled procurement achieves lower prices for 14 of the 18 most widely used vaccines in middle-income countries, with the average price for all 18 vaccines combined lower by 42%, although the differences vary widely between vaccines," the report said. found.
The WHO has also called on the vaccine industry to align their research and development activities more closely with WHO's list of priority pathogens and target product profiles, and to ensure transparency in their value chain.
Free market dynamics don't work
A striking feature of this edition of the Vaccine Market Report is its emphasis on the need for governments to keep public welfare in mind when dealing with the vaccine value chain.
Invoking the fact of vaccine disparities between wealthier and low- and middle-income countries during Covid-19, relying primarily on market dynamics in vaccine distribution does not further global public health goals , says the report.
"We must recognize both that vaccines are underinvested and that free market dynamics do not optimize social and health impact.
Highlighting that the WHO-supported COVAX vaccine facility's share of the total amount of vaccines procured and distributed worldwide is only 12%, the report highlights that the funding and supply efforts managed at global scale alone are not enough to ensure that vaccines reach everyone. the corners of the world. In October, COVAX was criticized for being "overambitious" in an independent evaluation of its performance under the WHO-backed Covid-19 Tools Access Accelerator (ACT-A).
"Despite the staggering number of approximately 15 billion doses delivered worldwide through various mechanisms in October 2022, COVAX accounted for only 12% of this volume, indicating that serving all populations more equitably and ending future pandemics requires more than funding and supply efforts."
"The right to health means the right to vaccines," added Dr Tedros.
Image credits: photo by Mat Napo on Unsplash, World Health Organization.
Fight the infodemic in health information and support reporting on health policies from the Global South. Our growing network of journalists in Africa, Asia, Geneva and New York connects the dots between regional realities and major global debates, with evidence-based, open-access information and analysis. To make a personal or organizational contribution, click here on PayPal.